We run cooking activities with the children at Ironside OSHC regularly – below are the recipes we use so that you can recreate them at home!
Pfeffernusse: German Spice Cookies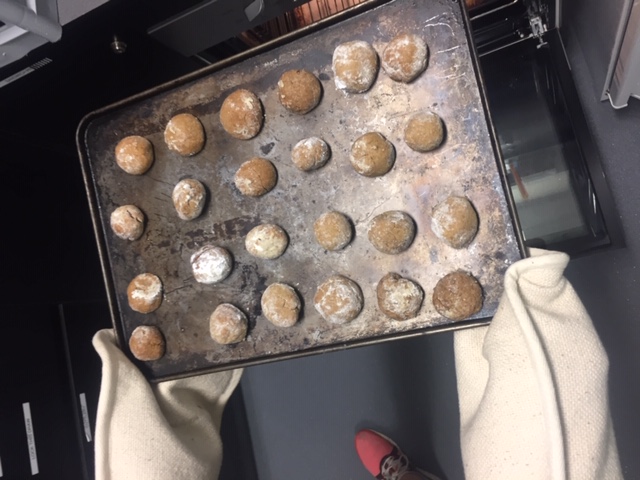 We sourced our recipe from Taste.com and we substituted the eggs for apple sauce.
25 minutes prep time
15 minutes cooking time
Makes 30 cookies

Ingredients:
2 1/2 cups plain flour
1/2 teaspoon ground cinnamon
1/2 teaspoon ground allspice
1/4 teaspoon ground nutmeg
pinch of cloves
1/4 teaspoon ground black pepper
1/4 teaspoon bicarbonate of soda
125 grams unsalted butter, softened
3/4 cup brown sugar
1/4 cup molasses
1/4 cup applesauce (to replace 1 egg)
1 cup icing sugar mixture

Method:
1. Preheat oven to 180 degrees Celsius/160 degrees Celsius fan-forced. Line two baking trays with baking paper
2. Sift flour, spices and bicarb in a medium bowl. Set aside. Using an electric mixer (OSHC children passed their bowl to an educator for this step) beat butter, brown sugar and molasses for 3 to 4 minutes or until fluffy. Add apple sauce and beat to combine. Sift in flour mixture until combined.
3. Roll level tablespoons of dough into balls. Arrange balls, 5cm apart, on prepared trays. Bake for 12 to 15 minutes or until cookies are golden and firm to touch (our cookies cracked slightly when they were ready). Cool on tray for 10 minutes.
4. Place icing sugar in a bowl. Working in batches, gently toss slightly warm cookies in icing sugar until well coated. Shake off excess sugar and transfer to a wire rack to cool.
5. Serve. We served ours with our afternoon fruit snack – how would you have cookies?


Vegetable Chips!
These vegetable chips are a favourite here at Ironside OSHC! Children are given the opportunity to gain their knife license once they are taught how to use a knife safely and demonstrate their skills – it comes in handy when making these chips! We sourced our recipe from Nutrition Australia and were inspired by their Try for 5 campaign.
Serves 4 – 6
Cooking time 20 minutes
Prep time 20 minutes

Ingredients:
1 medium sweet potato
1 large beetroot
Other root vegetables such as carrot and parsnip also work well!
2 tbsp estra virgin olive oil
1/4 teaspoon onion powder
1/4 teaspoon smoked paprika

Method:
1. Pre-heat the oven to 180 degrees Celsius.
2. Thinly slice the potato and beetroot using a paring knife and separate slices into two separate bowls.
3. Coat sweet potato and beetroot in extra virgin olive oil and seasoning by tossing them lightly.
4. Lay the slices on baking paper ensuring they don't overlap.
5. Bake for approximately 20-25 minutes (we baked ours until they were crispy!) rotating the tray after 10 minutes of cooking time.
5. Cool before serving

Dumplings
These delicious dumplings were very popular.

Makes 16 dumplings

Ingredients:
Choice of veggies:
1 grated carrot
1 grated zucchini
1/4 small shredded cabbage
Finely chopped bamboo shoots
Sweet corn kernels/baby corn

Other Ingredients:
2 – 3 tablespoons of flour
Handful of herbs (coriander, Vietnamese mint, chives) chopped
16 round dumpling wrappers
Oil for cooking (peanut, sunflower, sesame)

Dipping Sauce:
Sweet chilli sauce
Soy Sauce

Methods:
1. Prepare vegetables (wash, cut/shred) and put in a large bowl. Stir to combine.
2. Put flour onto your work surface. Put 16 dumpling wrappers on the flour.
3. Place 1 teaspoon of filling on one side of the wrapper.
4. Brush the sides of the dumpling wrapper with water. Fold the wrappers over and pinch the sides together to seal.
5. For cooking, the kids handed their dumplings over to the educators. Coat the bottom of a non-stick fry-pan with oil and heat over medium to high heat for 1-2 minutes. Place dumplings in the pan.
6. When bottom gets brown add 1 cup of water (it will spit) and immediately cover (to steam the dumplings).
7. Carefully watch the dumplings and completely evaporate the water so that the bottom gets crispy again and starts to stick to the pot.
8. Serve 3 or 4 per person with a small bowl of dipping sauce.
Nut Free Basil Pesto
We love this recipe on our pasta – and we love using the fresh pesto from our veggie gardens to make it.
Prep time 15 minutes
Serves 4

Ingredients
1 bunch of Basil (our favourite is from our gardens here at OSHC)
1 handful of baby spinach leave
1 x 400 g tin of chickpeas (reserve the liquid)
1 glove of garlic
Juice of half a lemon
1/3 cup rice bran oil
100 g fresh Parmesan cheese, not grated
Salt and Pepper to taste

Method:
1. Place the basil leaves and spinach in a blender/food processor, add peeled garlic, chickpeas, lemon juice and oil.
2. Blend until your desired consistency – we find smooth is better for pasta and chunky is better for dip! The kids are assisted by educators at this step.
3. If too thick, use some of the reserved chickpea juice to thin to your preferred consistency.
4. Grate in Parmesan cheese and add salt & pepper to taste.
5. Stir through pasta or have as dip with carrot sticks. Yum!